Class F2/Y1T
Spring Term - 2019
Julia Donaldson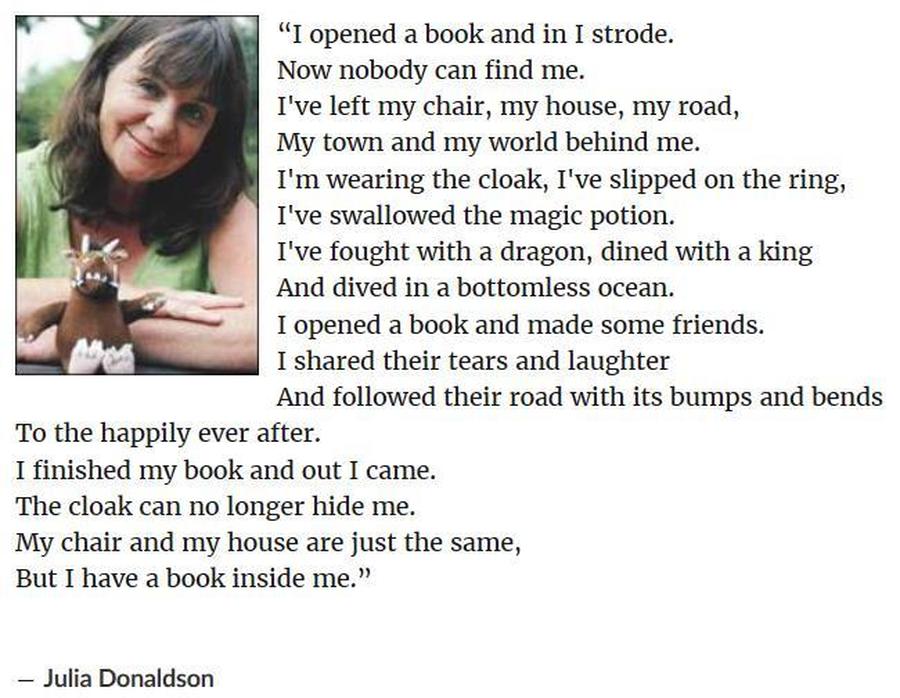 We will be starting this half term with an exciting enrichment day with a 'Music' theme. The children will be participating it lots of exciting creative activities including making musical instruments. We will be starting our Topic based on our favourite author, Julia Donaldson. The foundation children will exploring lots of books including: Spinderella, The Gruffalo, A Squash and a Squeeze, The High Way Rat, Super Worm and many more. Children will be involved in lots of STEM activities with a creepy crawly focus.
This term we will also be visiting Austerfield Study Centre where the Children will participate in a Gruffalo trail and get the opportunity to handle animals from the story.
We will also be celebrating science week, where the children will enjoy lots of messy experiments and learn about bugs and mini-beasts. We'll go on bug hunts is the school Wild Area, search for these mini-beasts, hiding in darkened nooks and crevices. Can we count their legs & wings? Can we classify, draw and make them?
We will be taking part in lots of exciting activities such as; baking, sewing, creative activities, retelling stories in our outdoor woodland area and taking part in many creative activities all planned around children's interests.
Our home school links continue to be extremely strong! All of our parents are working with their child on individual targets and producing some amazing home learning projects. THANK YOU!
We continue to encourage you to support your children with our whole school 'In it To Win It' challenge. If, they complete at least 5 reads per week and it is recorded in their reading records by an adult, one piece of homework and they have their PE Kit in school for our PE sessions, they will earn a raffle ticket each week they accomplish this. The raffle tickets of drawn termly and children can win a prize up to the value of £100. So please keep reading and supporting your child at home.
Miss Tims
& Mrs Jackson
We have an open door policy, if you wish to speak to us about anything then please do not hesitate to contact us. Please feel free to leave a comment for us at the bottom our page, where it will be gratefully received, thank you.
Any support, access to books, the internet and trips out will greatly enhance your child's learning experience and engagement in the topics. All seven areas of learning will be covered using this term's themes and following the children's interests.
Please use the links below to see our Curriculum Map and Information booklet
Julia Donaldson Spring 2 map.pdf info booklet F2 2017-18.pub
http://www.numberjacks.co.uk/kids/numberjacks.html
Miss Tims Personal Profile Coming Soon.....
Our Christma Production
'Shine Star, Shine'
Below are our songs we are practising for the Christmas Production,
hope you have fun learning your child the words.
Song 2 'A Baby is Going to be Born'
Song 5 'Shine Star, Shine'